Spicing Things Up at Edgemere Luxury Senior Living in Dallas, Texas
Thomas Cuisine is taking Edgemere's cuisine to the next level in partnership with Tre Wilcox, a two-time James Beard Award nominee and alumni of "Top Chef" and "Iron Chef America."
Chef Wilcox is best known for his healthy, flavorful dishes – the kind Thomas Cuisine has been serving for decades to its clients and guests in life plan communities, hospitals, and businesses across the U.S. This partnership works because culturally, the two organizations share the same values and mission of helping others live heathier lives – one nutritious meal at a time.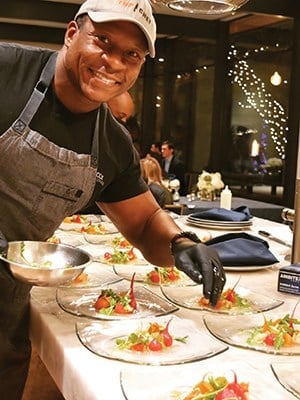 Tre and the Thomas Cuisine leadership team work together with a sincere desire to serve others. As Thomas Nicholson, Regional District Manager, explains, "Our aim is to provide Edgemere with originality and ingenuity in their culinary programs—programs reminiscent of luxury Dallas cuisine."

Chef Tre is already re-calibrating expectations, as residents gather again in dining rooms to break bread among friends. Edgemere is on the cutting edge of the Texas luxury senior living culinary scene, with many new residents seeking the nutritional and health benefits of freshly prepared meals using the highest quality ingredients. It is what residents have come to expect. With Chef Tre Wilcox on site, residents are even more interested in what's for dinner, as he introduces new menus and meals, spicing things up a bit, behind the scenes.